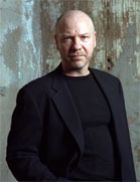 During his tenure as the Artistic Director of the CalArts Center for New Performance and the Dean of the CalArts School of Theater, Travis Preston has directed some of the best theater and opera performances around the globe. Recently, Preston was knighted in France, receiving the Chevalier of the Order of Arts and Letters by the French Minister of Culture for "contributions to the arts in France and throughout the world." This award came in response to some of Preston's greatest directorial achievements.
While Travis Preston was at CalArts, he directed:
Fantômas: Revenge of the Image at the Wuzhen Theatre Festival in China (World Premiere)
Prometheus Bound at the Getty Villa, from a world-premiere translation by Joel Agee
Macbeth with Stephen Dillane at REDCAT, the Almeida Theatre, and the Adelaide Festival
Boris Godunov by Musursky at the Hamburg State Opera
The Master Builder with Gemma Arterton and Stephen Dillane at the Almeida Theatre
Al Gran Sole Carico d'Amore by Luigi Nono at the Hamburg State Opera
The World Premiere of Democracy in America at the Yale Repertory Theater
The World Premiere of Ted Tally's Terra Nova at the Yale Repertory Theater
The American Premiere of Roberto Zucco by Bernard-Marie Koltès.
The World Premiere of The Last American in Paris
And Many Other Award Winning Plays
One of the most fulfilling aspects of directing these plays for Travis Preston has been the opportunity to share knowledge with young actors and directors and help them bring these amazing stories to life. It's why Travis Preston has not only taught at CalArts, but at many different universities and theater training programs all over the world.
Schools and Training Programs include:
The Yale School of Drama
Columbia School of the Arts
New York University
The National Theater School of Denmark
Indiana University
Hong Kong Academy for the Performing Arts
Harvard University
On this website, readers can not only gather information on the history of an incredible career, but can look for fresh blog posts offering insights from one of the greatest minds in theater and opera directing today. Thank you for visiting Travis Preston CalArts and be sure to check back often!